Introducing Bënkel, the ultimate bedroom chair. Whether you're reading a book or catching up on your favorite TV show, this accent chair delivers the ultimate in comfort and sophistication. Crafted with the highest quality materials and attention to detail, Bënkel features beautiful textiles and metal incorporated in its ultra-modern design. Its angular frame is softened with rounded cushions adding the perfect elegance and flair.

With Bënkel, you'll never have to compromise on comfort or style. Its ergonomic design, angled perfectly, provides maximum support for your back, neck, and shoulders. It's the ideal spot to relax and unwind after a long day. You'll love sinking into its plush cushions, and the sturdy construction ensures its long-term durability.

Transform your bedroom into a luxurious oasis with Bënkel. Order yours today and experience a new level of grandeur and relaxation.

Arrives fully preassembled

Smudge free

Product weight: 56 LBS

Overall Dimensions: 28 in W x 29 in D x 33 in H

Seat Dimensions 24 in W x 20 in D x 17 in H
Arm Dimensions 2 in W x 24 in H  
Weight Limit: 500lbs.

Origin: Imported
Read More
Color/Fabric
-
Boucle/Ivory
Pre Order. Please note this item is currently on pre order and will be available to ship Sep 12th.
Notify Me When Available
Bënkel,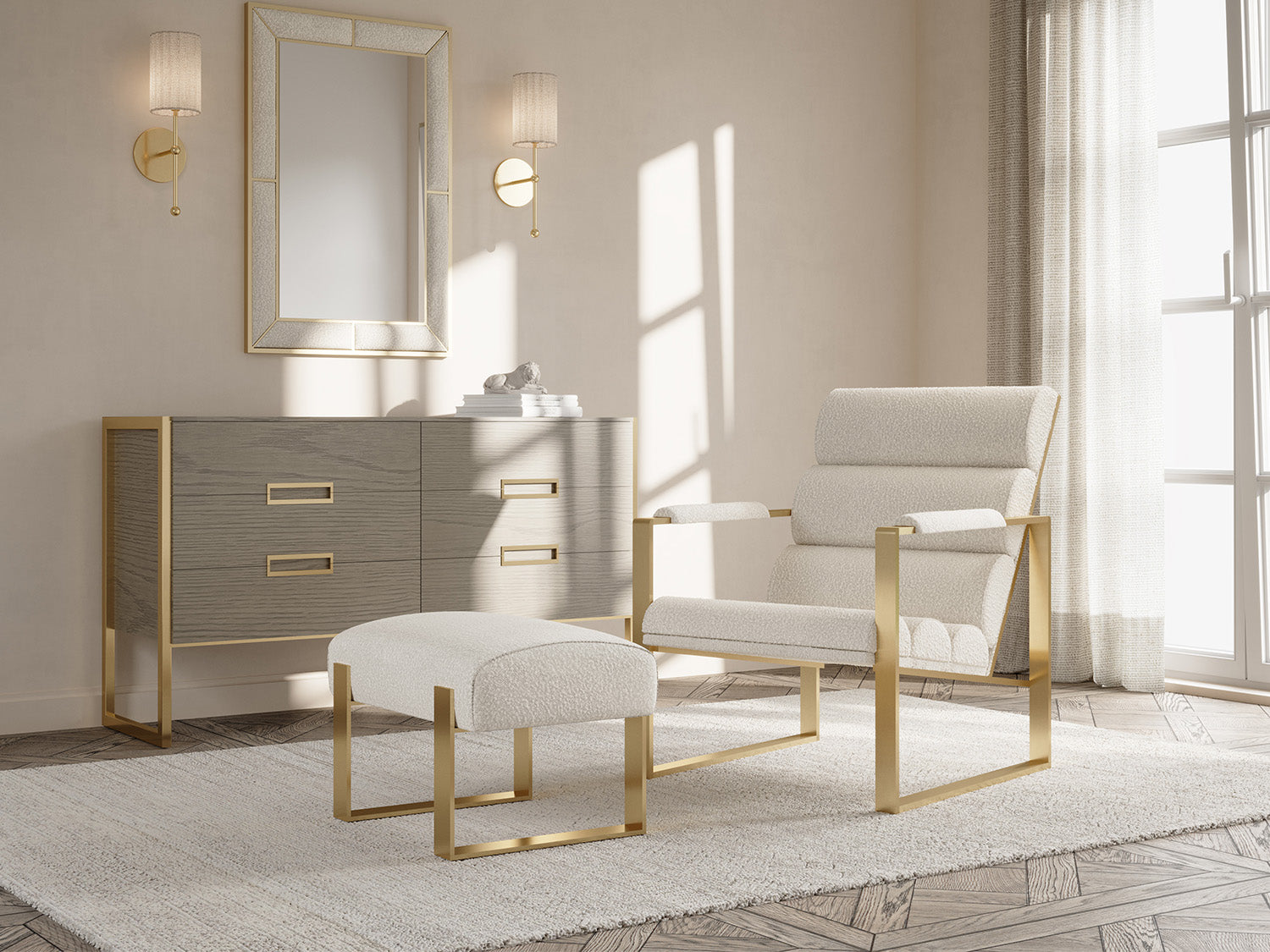 Bënkel,
Discover the beauty of smudge-free metal, a revolutionary feature that ensures your chair stays flawlessly clean and pristine. The secret lies in the advanced treatment applied to the metal surfaces. This special coating creates a protective barrier against unsightly smudges. Say goodbye to bothersome fingerprints that mar the appearance of your furniture. You can now spend less time worrying about maintenance and more time relaxing on these plush and comfy chairs.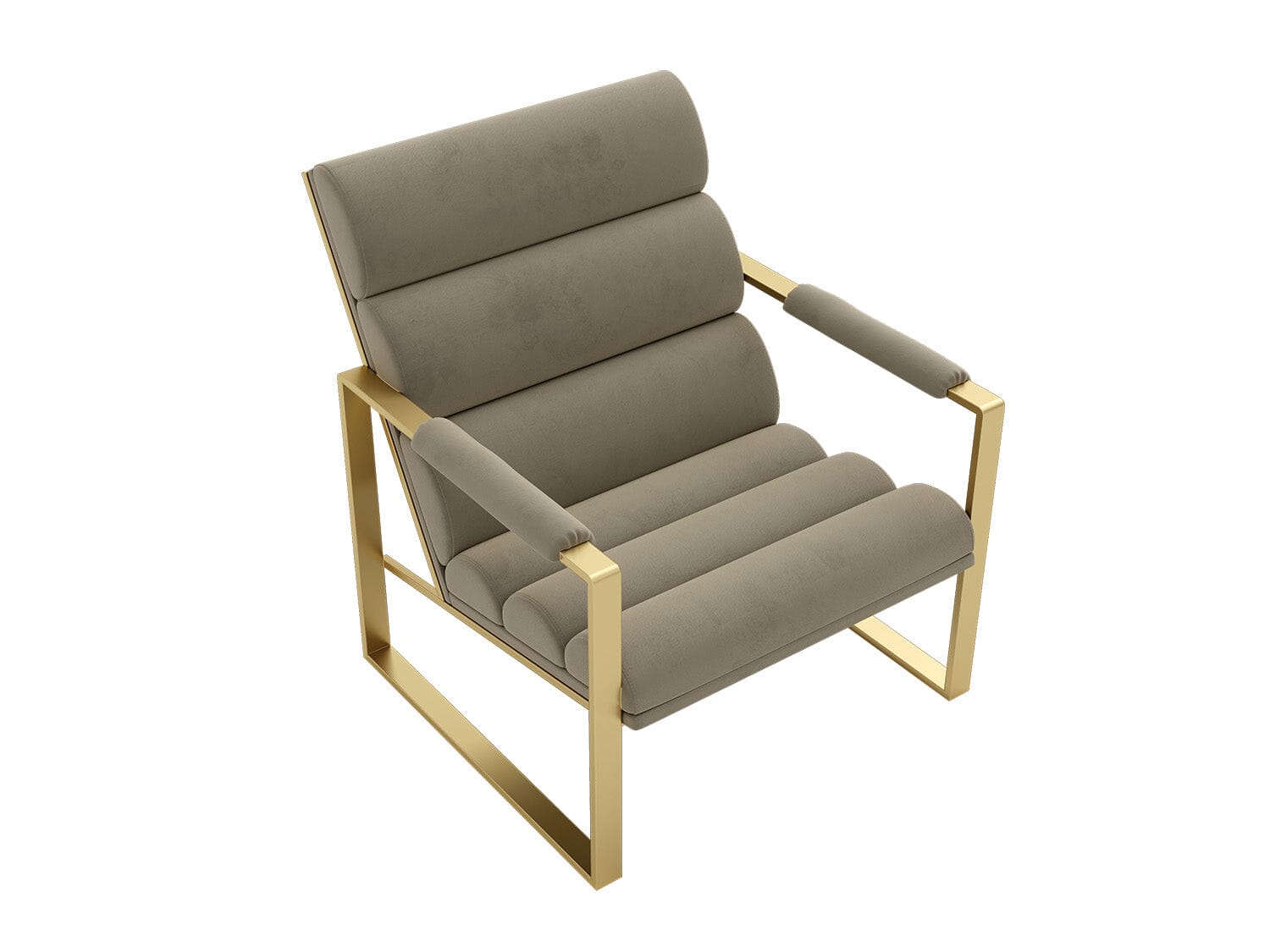 Crafted for Comfort
Don't compromise on comfort or style. The VANT Benkel is ergonomically designed  with maximum support for your back, neck, and shoulders. You'll love sinking into its plush and supportive cushions.
All Vant Bënkel include
PREPARED AND READY TO SHIP
We know you love these panels, and you want 'em fast! We process your order within 48 hours of it being placed, and the panels are shipped right to your doorstep. Now, THAT'S service.
FREE SHIPPING TO US AND CANADA
We offer free UPS Ground shipping on all orders to the US (excl. HI & AK) and Canada* You can always select an expedited service for an extra cost. *oversize handling fee may apply for Canadian orders with platform beds & night stands.
EXCEPTIONAL CUSTOMER SERVICE
We go above and beyond the call of duty to ensure customer satisfaction.
Don't just take our word for it.
Read all the ad-Vantages of our products
Vertical Display is awesome too!
I LOVE the final outcome of the panels. We put them up vertically, Would have been nice to have instructions for vertical installation, wasn't as easy as it states to instal but once they were up, we love them. Also goes great with the cool, unique lights and nightstands. Wish you had a dresser because we had to try to match and order elsewhere.
Beautiful nightstands
The nightstands shipped assembled which was a huge help. The grey is a little lighter than in the picture but the color combination looks very elegant. The only drawback is the drawers are a little hard to open. The nightstands are a good size with plenty of drawer space. Would recommend.
Own the bedroom built by VANT
Panels, bed base, bench, and just received the night stands. I love walking into my bedroom, it looks so modern with such clean lines. Please please design a chest of drawers to finish off the look. Only thing I wish is, when I bought the bed base VANT did not have the elevated bed base. It would have been the icing on my beautiful bedroom.
Well worth the wait Nightstands
It took forever to get my nightstands, but we'll worth the wait. I love them. The packaging was great, almost too good.
They are better than I expected. I would recommend them to anyone. The drawers are a little tight when trying to open them but I like that.
Efficient service. Received faster than expected!
The nightstand is exactly as described.
Always a pleasure dealing with the Vant team!
Simply Beautiful
I love my black/ silver nightstand it is the perfect accent to my white dove leather panels, white dove platform bed and white dove leather bench.
Vant Nightstand
The night stands look great. The quality is solid. The soft close draw is nice as
a lot of other companies for some reason are still not using soft close hardware.
The only gripe is the finger tap to open the drawer is pretty small making it a little challenging to open the draw. It takes more effort than you would think. Over all its a nice piece of furniture and looks modern and clean. its solid and seems like it will last. It also came in piece out of the box with great packaging and right into the bedroom.
Beautiful side tables! Exactly what I was looking for. These tables are sturdy solid. Very good product for the price.
We love our night stands!
Frequently Asked Questions
What is the assembled product weight?
The nightstand weighs 56 lbs.
What is the Nightstand made of?
The night stand is made of high quality oak wood veneer. Legs and handles are made of aluminum.
What is the shipping turnaround time?
We ship within 24 hours via UPS or Fedex Ground service, which usually takes between 3-5 business days for delivery. Backordered items will ship once the product is available.
The night stand ships fully preassembled. Just remove protective packaging and enjoy!