Minimal. Transparent. Timeless.
The Outline Lamp (patent pending) features touch resistant high quality metals in edge-to-edge simplicity. A transparent inner chamber and doubly lit LED parameter lends the perfect hue to your sleeping quarters or living space.
Arrives fully preassembled

3-Way Dimmable LED via touch sensor technology

LED hue: 4500K

Lumens: Level 1: 1000, Level 2:

 500,

Level 3:

 200 

Base features 2 USB super charging ports

Flat plug head allows for behind Panel installation

Overall Dimensions: 18" L X 5" W X 18.5" H

Composition: stainless steel

May be returned within 30 days for a full refund (excluding return shipping) See our return policy details

Ships next business day. UPS Ground service (3-5 business day delivery)

Origin: Imported
Read More
Notify Me When Available
The Vänt Outline Lamp

The Vänt Outline Lamp
The shape you fell in love with many years ago has now been redesigned by Vant to align with the times. A block of metal, hollowed out to resemble the classic lamp, has been skillfully crafted to create the most minimal of table lamps with a maximum glow factor.
A Väntage Point Of Your Room.

3-Way Dimmable LED
via touch sensor
technology.

The perfect level of
illumination at all times
of day, and night.

4500K LED The perfect
hue to your sleep
quarters or living space.

Flat plug allows for seamless installation behind the bed panel.
Base doubles as a
USB charging device.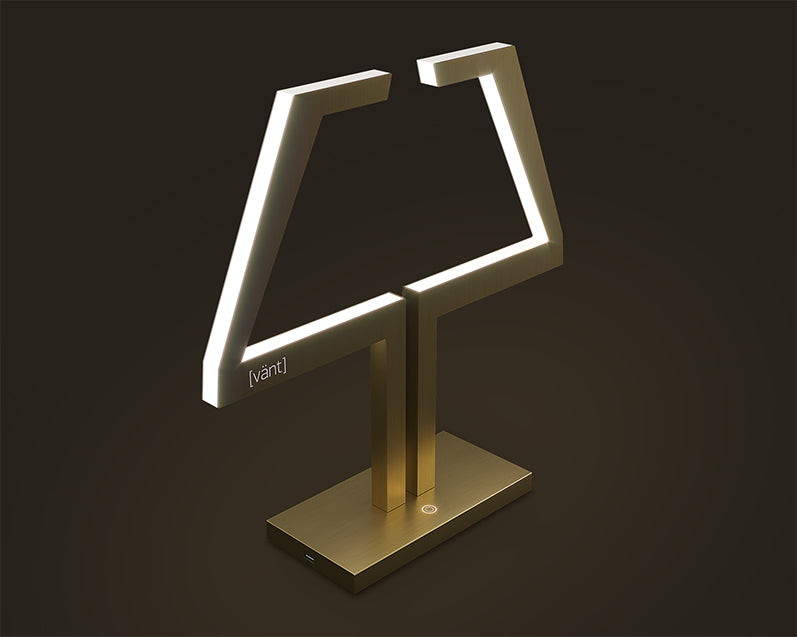 The absence of space
We used the absence of space within The Outline Lamp's metal ledges to celebrate the beauty of Vänt furniture in a way that allows every bit of upholstery and wood to be showcased and illuminated. Defying clutter in a clever way, The Outline Lamp uses super slim metals to highlight simplicity.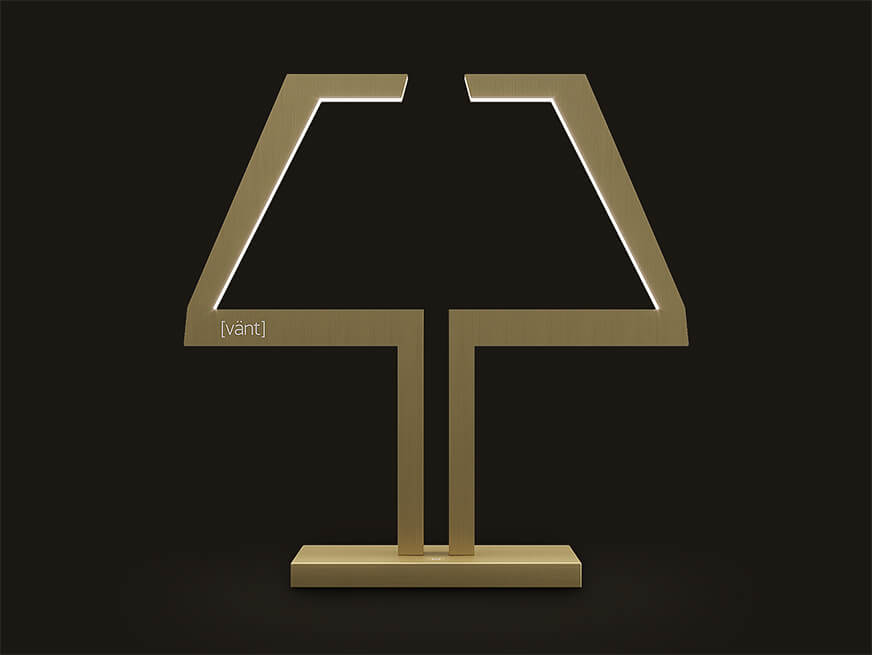 Beyond good bedside manners.
The Vänt Outline Lamp has been designed to complement our iconic panels, but it bodes well in a living area, guest suite or study. With table manners as good as its bedside manners, the dual LED strips provide illumination from the inside and out, with a 3-touch bright-to-dim display feature that provides the perfect level of illumination at all times of day and night.
Flat plug allows for seamless installation behind the bed panel.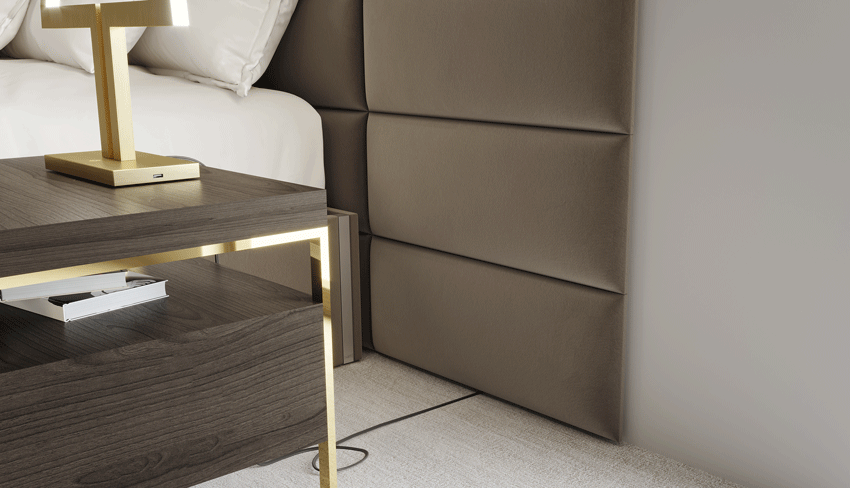 Flat plug allows for seamless installation behind the bed panel.
Designed with a flat-plug cord that fits in the space between your Vänt Panels and wall. If your outlets are hidden behind your Vänt Panels, remove the panel that sits in front of your outlet, plug in the cord, and pop the panel right back in
Beds Aren't Just For Sleeping.
The Outline Lamp is there for the fun times, passionate times, and productive times.
Enable charging Live comfortably with the integrated 2 USB super chargers.
Enable charging
Live comfortably with the integrated 2 USB Super chargers.
Never block the view
Designed to showcase your Vänt Panels.
Stack it well
Pairs perfectly with our Vant Nightstand
All Vant products include
PREPARED AND READY TO SHIP
We know you love these panels, and you want 'em fast! We process your order within 48 hours of it being placed, and the panels are shipped right to your doorstep. Now, THAT'S service.
FREE SHIPPING TO US AND CANADA
We offer free UPS Ground shipping on all orders to the US (excl. HI & AK) and Canada* You can always select an expedited service for an extra cost. *oversize handling fee may apply for Canadian orders with platform beds & night stands.
EXCEPTIONAL CUSTOMER SERVICE
We go above and beyond the call of duty to ensure customer satisfaction.
Don't just take our word for it.
Read all the ad-Vantages of our products
Fabulous Lamp
I can't be happier with my outline lamp. The design is so unique and I love the fact that there are three levels of lighting options. The USB ports on the base are a bonus. Wouldn't hesitate to recommend the lamp.
Great Buy!
Love them! Started with free color and texture samples to determine selection. Other companies who sell panels didn't offer free samples and reviewers were disappointed in the actual color. Ridiculously easy and brilliant method of how to install. Only issue is I misunderstood the sizing and needed to order another pack. Waiting on arrival to finish what I started.
Stunning! A Truly Unique Conversation Piece
Completely enthralled with this lamp.
The minute guests walk into the room, it catches their eyes and immediately proceed to walk over and admire it more closely.
It's silhouette harkens us back to a traditional shape we grew-up with but its clean, angular lines and modern texture segues it into a contemporary sculpture.
I enjoy the the levels of light it emits; providing me with the option to alter the mood and lighting in the room.
You can't go wrong with this lamp.
Yet another great element in the Vant product portfolio!
Outline lamp
Love, love, love!! This lamp is crazy cool. I absolutely love it! So sleek and well made. Arrived very quick!!!
I needed new lamps to the new bedroom and I was looking for something simple and modern and these turned out perfect.
I love these lamps. They were super easy to assemble, super affordable, and look great. I bought a second pair for my living room because I liked them so much in my bedroom.
Bought a pair as nightstand lights. The three color temperature and dimness control were all functional. Especially love the USB ports to charge my juul device!
I have been using this light for more than two months. I have not observed any issues, and like it a lot. It is not only a great light, but its modern design also adds the wonderful decordation to the room.
Handsome Contemporary Lamps.
Excellent contemporary lamps - Would be nice aesthetically if they were a couple inches taller. These lamps do not work well with the Phillips Hue Smart Plugs. They will turn off, but not on. Officially 4.5 stars, but since that is not an option, I'm rounding up. I would buy again and recommend.
5 stars! Absolutely a stunner!
Looks just amazing on our night chest.
Immaculately packaged, simple straight forward plug and play.
Let's talk about quality! extremely well and sturdy made.
Just another superb product from Vant.
Frequently Asked Questions