Chic and luxurious, The Vant Platform Bed elevates any bedroom design. The bed  provides excellent support under any mattress and can be assembled in minutes. 
Easy assembly, no tools required
Compatible with adjustable bases
Weight capacity: 1200 lbs
74"W X 86"L X 14"H (Inner dims: 72"W X 84"L)
Composition: Plywood, Solid Wood, High Density Foam, Cover Material 
May be returned within 30 days for a full refund (excluding return shipping) See our

 

return policy details
Ships next business day. UPS Ground service (3-5 business day delivery)
Origin: Imported
Fire Rating NFPA260 California residents: click here for Proposition 65
Read More
Notify Me When Available

Designed for easy, stress free
assembly

Provides excellent support
under any mattress

Perfectly spaced slats
upholstered in non-woven
material
All Vant products include
PREPARED AND READY TO SHIP
We know you love these panels, and you want 'em fast! We process your order within 48 hours of it being placed, and the panels are shipped right to your doorstep. Now, THAT'S service.
FREE SHIPPING TO US AND CANADA
We offer free UPS Ground shipping on all orders to the US (excl. HI & AK) and Canada* You can always select an expedited service for an extra cost. *oversize handling fee may apply for Canadian orders with platform beds & night stands.
EXCEPTIONAL CUSTOMER SERVICE
We go above and beyond the call of duty to ensure customer satisfaction.
Where style
meets lifestyle
Now that your room has a new look,
complete it with Vant's Platform Bed.
Now you're done.
Shop The Platform Bed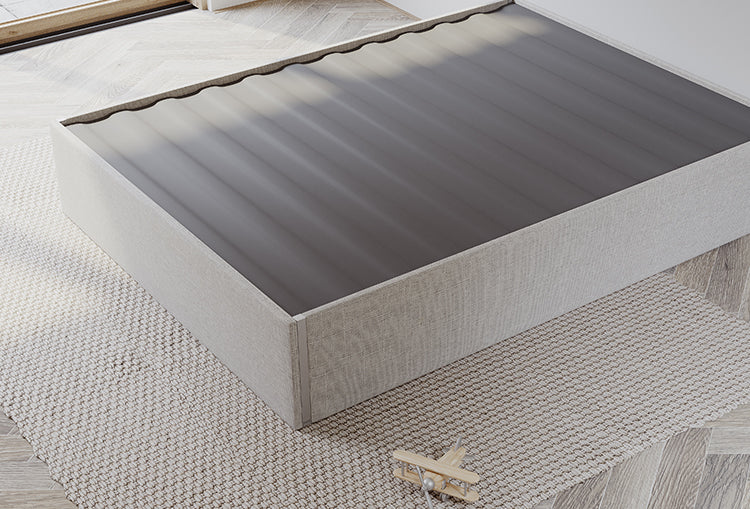 ATTENTION TO DETAIL
Crafted with aluminium to create a sleek and
attractive aesthetic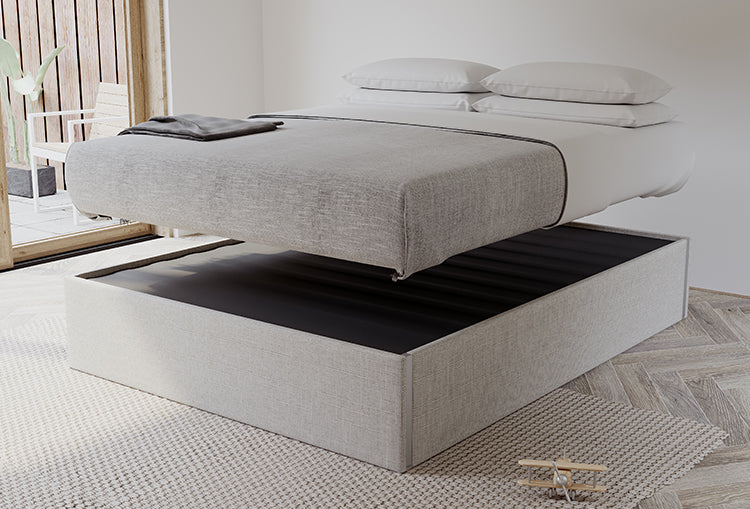 SECURE SUPPORT SYSTEM
Strategically assembled to serve as a durable
back-bone for your platform bed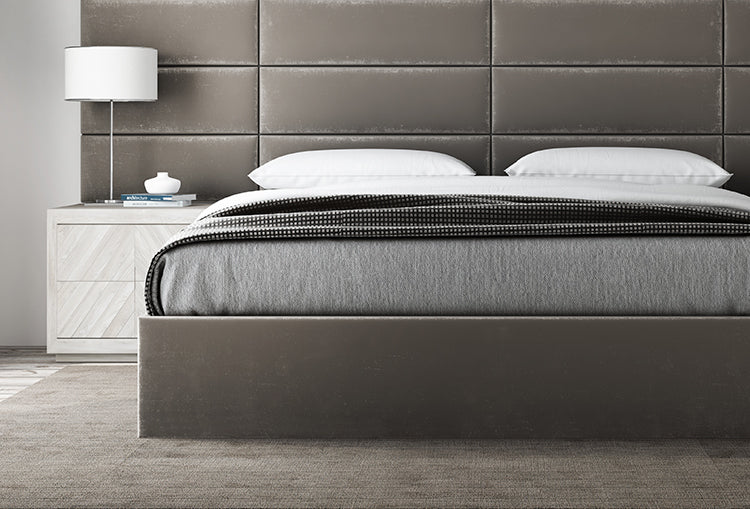 LUXURIOUS FINISHES
Six high quality finishes, ranging from supple
leather to lush velvet's, and 30 designer colors
Don't just take our word for it.
Read all the ad-Vantages of our products
Gorgeous but install was tough...
We purchased the king size platform bed, matching bench and 12 panels. The support for the mattress did not support our king size mattress (Kingsdown). Hubs had to add extra support but we still had to use our 4" boxsprings to support the mattress and they sit a few inches above the platform bed which makes the bed hard to make, the duvet does not reach the platform bed and looks messy. The screws that come with the railing are flimsy as all get out and subpar to say the least. We massacred our brand new homes bedroom wall before we ended up using sheetrock anchors. In the end the set up is as beautiful as I've been dreaming of all of these months during the home build.
Vant Upholstered Platform Bed - Queen size
Great customer service
The only reason I cannot give a 5 star rating is because one of our bed panels arrived defective. The faux leather was scuffed through and the panel was bent (the outside packaging was fully intact, so it was not a result of the delivery company causing it). Customer Service was awesome and sent us a replacement panel right away. It just bothers us that one of their employees saw these defects and still packaged the panel to be shipped out to us.
Finishing Touch
We purchased the platform bed to go around our adjustable bed. It was the finishing touch to give the bed a built-in look. It is built well and matches the floating nightstands. It looks great next to the Vant panel headboard.
Vant is a Fantastic Company!
Wonderful products and great service at reasonable prices. Fast delivery. A real pleasure to deal with.
Great look!
The panels, bed frame , and bench look crazy good! I couldn't be happier. I'd highly recommend these products!!
Sophisticated, clean and neat
Love my new platform beds adds so much to my room. Customer service was very helpful especially with all the color swatches they sent.
New bedroom
It turned out wonderful, had a few problems but Can't took care of it fast and professionally.
Vant Upholstered Platform Bed - Full size
0
Frequently Asked Questions
What's the clearance under the elevated bed?
There is a 5" clearance from the floor to the start of the upholstered frame.
Is the elevated bed compatible with adjustable beds?
No. The elevated bed is not compatible with adjustable beds.
How Deep Will The Mattress Sit In The Platform Bed Frame?
The mattress will drop approximately 1/4 of an inch into the platform bed
What is the weight capacity for the platform bed?
King bed: 1200 lbs.
Queen bed: 1000 lbs.
Full bed: 1000 lbs.
Twin bed: 600 lbs
Can The Beds Be Easily Moved?
Once assembled, the beds can still be moved. Just be careful to lift it while moving, to protect your flooring.
Do I Need A Box Spring For The Platform Bed?
Just place your mattress onto the slats. No box spring required.
Can I Attach The Bed To The Panels?
The bed does not attach to the panels in any way.
Can The Platform Beds Be Used For An Adjustable Bed?
Our Platform bed is compatible with most adjustable bases. You simply will not need to use the support beam (Unscrew the aluminum) and slatted mat that is included with the VANT platform bed purchase, and insert your bed base directly into the frame. We strongly recommend measuring your adjustable base to ensure that the measurements are compatible. Additionally, you may need to remove the lips on our platform bed side rails for your bed to fit properly. Our Elevated bed is not compatible with adjustable bases. 
What if the color I have chosen is currently out of stock?
Your items will be placed on back-order and will ship as soon as it becomes available. This may take between 2-8 weeks. We will update you on the estimated ship date of your items.
Load More